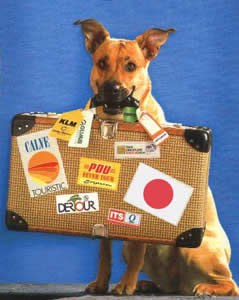 Daigon Internationl is here to safely and ethically take care of the entire process of your pet relocation needs. This means we will manage all your pets' flights, veterinary requirements for overseas pet travel, origin and destination ground transportation, kennelling and much more.
Whether it is dog transportation or cat transportation that you are looking for, you can be confident that you've reached South Africa's leading pet movers.
We have been providing reliable pet travel and animal moving services professionally since 2002 so you can imagine just how much experience, knowledge and understanding we have to offer you.
We provide animal relocation services within South Africa and international transportation to and from anywhere in the world. Besides domestic pet shipping services and international pet travel services, we are also able to assist with the import of pets into South Africa and surrounding SADC countries. If your pet is transiting through South Africa we are able to arrange onward flights to all African and other international destinations and manage all your pet transit requirements.
We promise not to baffle you with jargon or market our socks off to you, we will show you that you are making the right choice by delivering on our promise of good, honest pet transportation service at a good honest price that seems to be missing from the South African service industry.
All our pet transportation quotes are tailor made to suit your needs, budget and lifestyle. Give us a call and we will help you compare apples with apples.
We offer pet transport locally and Internationally and will take good care of your furry friends / family.
Give us a call or drop us an email at pets@daigon.co.za