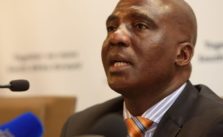 FTW Online News Feature (source Page)
New points system against traffic offenders greenlit
The new Administration Adjudication of Road Traffic Offences (Aarto) Bill to introduce a new demerit points system against the licences of traffic offenders, was approved by the National Assembly yesterday (Tuesday).Minister of Transport, Joe Maswanganyi. Source: GCI
The bill aims to improve driver behaviour following an "alarming" increase in road accidents, according to Transport Minister, Joe Maswanganyi.
"The tabling of this bill is a direct result of the untenable and unsustainable road safety situation in our country," he said. "We are experiencing a tremendous loss of lives, especially of young people, as well as the continued breakdown of road traffic laws."
The new system will allocate predetermined points to specific offences, which will be marked against the offender's driver's licence.
Maswanganyi had earlier noted that drivers would receive an automatic driving ban for a period in months equal to three times the number of points exceeding 12.
"Points can be reduced at a rate of one point per three-month period, provided no further demerit points are incurred during that period," he said. "Should a driver be disqualified for a third time, then his licence will be permanently revoked, and he must reapply for his learner's licence and begin the process from scratch but only after the expiry of the disqualification period."
Maswanganyi added that imposing serious consequences on repeat offenders would be a strong incentive to drivers to obey the rules of the road.
He had pointed out that the most important catalysts to bring about improvement in driver behaviour and law compliance were well planned, efficient, and effective law enforcement with the support of an equally effective road traffic adjudication system.
Maswanganyi said the demerit system would be implemented at the same time as the national implementation of Aarto.
Implementation of the demerit system has been long awaited and was expected to commence after the proposed Aarto implementation date of April 2011.